Resources
COVID-19 Information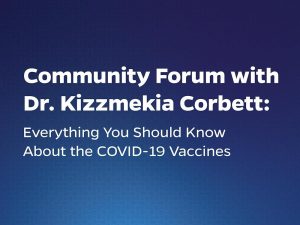 (Recorded on Wednesday January 27, 2021 1:00-2:30pm ET)
Presented by the Urban Health Institute and Johns Hopkins Office of Diversity, Inclusion, and Health Equity, in partnership with the Johns Hopkins Center for Health Equity, Center for Health Disparities Solutions, Center for Immunization Research, Johns Hopkins Vaccine Initiative, and Center for Public Health and Human Rights.
Equity for COVID-19 Vaccines and Care
At Johns Hopkins Medicine, inclusive and equitable access to medical care and health information is a core value of our institution. Our care teams are working with community partners to give vaccines to our most vulnerable eligible residents, to provide access to COVID-19 testing, and to educate and inform our communities hardest hit by this pandemic.
Links with this icon indicate that you are leaving the CDC website.. The Centers for Disease Control and Prevention (CDC) cannot attest to the accuracy of a non-federal website. Linking to a non-federal website does not constitute an endorsement by CDC or any of its employees of the sponsors or the information and products presented on the website.

A collection of resources on Covid-19 vaccines, including frequently asked questions, continuing medical education, published research, and commentary.
Spotlight on Black Business and Services
Travel Noire
Travel Noire is digital media company serving millennials of the African Diaspora. Through inspired content, we help discerning travelers, discover, plan and experience new destinations.
Click here to view their list of Black-owned businesses.
Support Black-Owned (SBO)
SBO was created as a one-stop source that is used to bring tremendous popularity to help Black business owners and consumers. SBO offers premier Black owned business listings and tools that allow businesses to invest and build wealth in our very own communities.
Click here to download the SBO app.
Black-Owned Recommendations from BFSA
Books on Anti-Racism
This list was curated, in no particular order, using member recommendations as well as those recommended by educators and activists.
Remember to support Black-owned bookstores*! 
Eloquent Rage: A Black Feminist Discovers Her Superpower by Brittany Cooper
How to Be Anti-Racist by Ibram X. Kendi
White Fragility by Robin Diangelo
So You Want to Talk About Race by Ijeoma Oluo
Me and White Supremacy by Layla F. Saad
The New Jim Crow by Michelle Alexander
Reproductive Injustice: Racism, Pregnancy, and Premature Birth by Dána-Ain Davis
Between the World and Me by Ta-Nehisi Coates
* The second page of this spreadsheet boasts a lengthy anti-racism reading list
Additional Black-Owned Bookstore Resources:
Oprah Magazine's Black-Owned Bookstores List